So, it was Thursday morning. Thursday as in the day that's after the day the neighbor had said he would be out of the meth house across the street. And he was, of course, still there. The criminal factor in the neighborhood was becoming disproportionate, even for St Johns.
At this point, he had been "packing" for some 30-odd hours, aided no doubt by some kind of uppers. And a great help they had been–the truck, while lamentably still across the street, was piled high with what I can only describe as a a precarious and random pile of rubbish. No beds were yet in sight, which made us think that another night of being neighbors with him + criminal consorts was in store.
7:25 am. I leave for work, my mind filled with fantasies of not coming home to more of this view: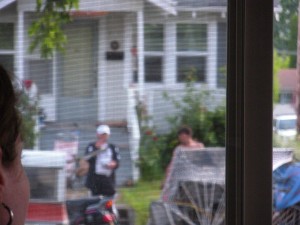 But at this rate, expectations were low.
5:30 pm. I turn onto our street on my way home from work, and broken down on the corner, hood up, a mere block from where it was in the morning, is the now ex-neighbor's truck. Fail! After all that, the ex neighbor is still within line of site and ear shot of our living room.
6:30 pm. More puzzled efforts and discussion among (ex) neighbor's peer group. With the boon of enforced residence a block away, they apparently decide it may be worth it, after all, to take the mattresses. Two young ruffians escape from the pack and carry the beds out of his old house, down the street to his new sidewalk.
As the evening concludes, (ex) neighbor and all of his earthly goods that meth could possibly help him load onto the truck are a block away. To say we had an abundance of schadenfreude would be an understatement.